The Bride Test (MP3 CD)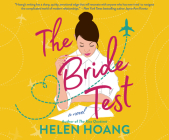 $29.99
Usually Ships in 1-5 Days. Please note that sometimes a book is available on our website, but not currently on the store shelves
Staff Reviews
---
Khai Diep thinks his emotions are defective because of his autism and will not look for a relationship because he knows he can't love. His mother decides to try to change his mind and brings Esme Tran from Vietnam to stay with Khai. Esme has never quite fit in, first because of her half American heritage in Vietnam and then as a new immigrant with limited English and little education in America. With Khai, she thinks there's a connection but he's convinced himself and her that it's not love. 
A good romance allows you gain insight into people's motivations and choices in relationships.  Hoang makes her characters so relatable and endearing, that even when I got exasperated with Khai because it's so obvious how much he cares for his loved ones, I wanted to shake him and then give him a big hug. A great romance will increase your empathy and understanding of people in real life and that's just what happened with this book.  Hoang definitely aced The Bride Test. 
— Julie
May 2019 Indie Next List
---
"This follow-up to The Kiss Quotient is an incredibly diverse and fun story about Khai, Michael's cousin from the previous novel. He is Vietnamese-American, autistic, and believes himself to be incapable of the emotions that matter. I would recommend this to those who enjoyed The Rosie Effect and Eleanor Oliphant Is Completely Fine. Hoang is making important waves, one sweet, sexy romance novel at a time."
— Stephanie Csaszar, Books Around the Corner, Gresham, OR
Description
---
Khai Diep has no feelings. Well, he feels irritation when people move his things or contentment when ledgers balance down to the pennyΓ but not important emotions, like love. His family knows betterΓ that his autism means he just processes emotions differently. When he steadfastly avoids relationships, his mother takes matters into her own hands and returns to Vietnam to find him the perfect bride. As a mixed-race girl living in the slums of Ho Chi Minh City, Esme Tran has always felt out of place. When the opportunity arises to come to America and meet a potential husband, she canΓ t turn it down. Seducing Khai, however, doesnΓ t go as planned. SheΓ 's hopelessly smitten with a man whoΓ 's convinced he can never return her affection.