The Carousel of Animals (Hardcover)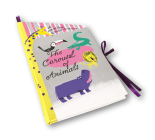 $19.95

Usually Ships in 1-5 Days. Please note that sometimes a book is available on our website but not currently on the store shelves
Description
---
A 3D pop up book that redefines how we tell a story; The Carousel of Animals is a book, a mobile and a magical menagerie, expertly crafted for an interactive storytelling experience that can be enjoyed time and time again.

A lion riding a cat, monkeys boxing a kangaroo, a fox riding a fire engine... This is one ride children won't want to miss! As the book unfolds and the carousel starts to turn, we see a troupe of characters march past in colourful array.  How many animals do you see? What are they called? Each new spin brings new life to the tale it invites a different story to be told, and a new world to unfold. 
The Carousel of Animals will enchant both young and old with the paper craftsmanship that is a signature of Gerard LoMonaco's work. His striking illustrations captivate the imagination whilst Henri Des delightful rhymes gives pace to each spin of this madcap journey on the animal carousel.
About the Author
---
Gerard LoMonaco: Gérard LoMonaco is an Argentinian illustrator, art director and paper engineer living in Paris. His design and paper craftsmanship won him a Grammy Award in 2017 and his 3D pop-up books for children have been printed and published internationally. His titles include A Sea Voyage and the Small World of Paper Toys.